Design to Code
HTML & CSS
Coding Practice Book 1Practical Hands-on project


with Flexbox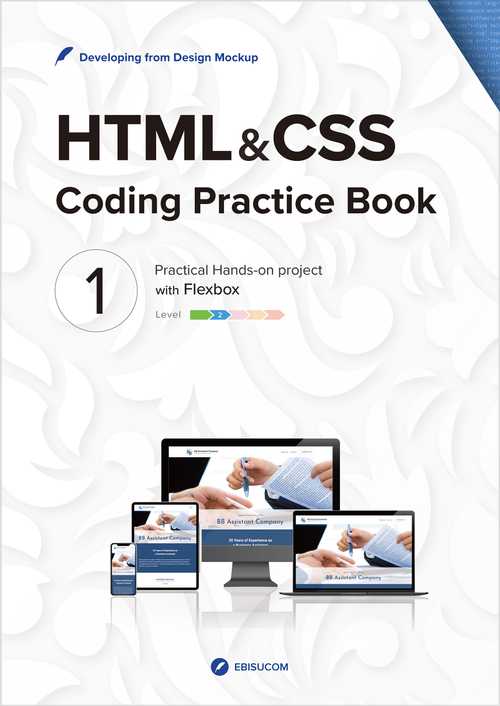 Basic HTML and CSS with Flexbox to create a company website
Case Study Details
Here is the PDF for details about the website to be created in the Case Study.
About This Book
This book provides the practical hands-on project for coding a website with HTML and CSS from design mockup and specification.
The Mockup created with Adobe XD provides a detailed design of a website.

The Mockup and the Case Study's Code are available for download.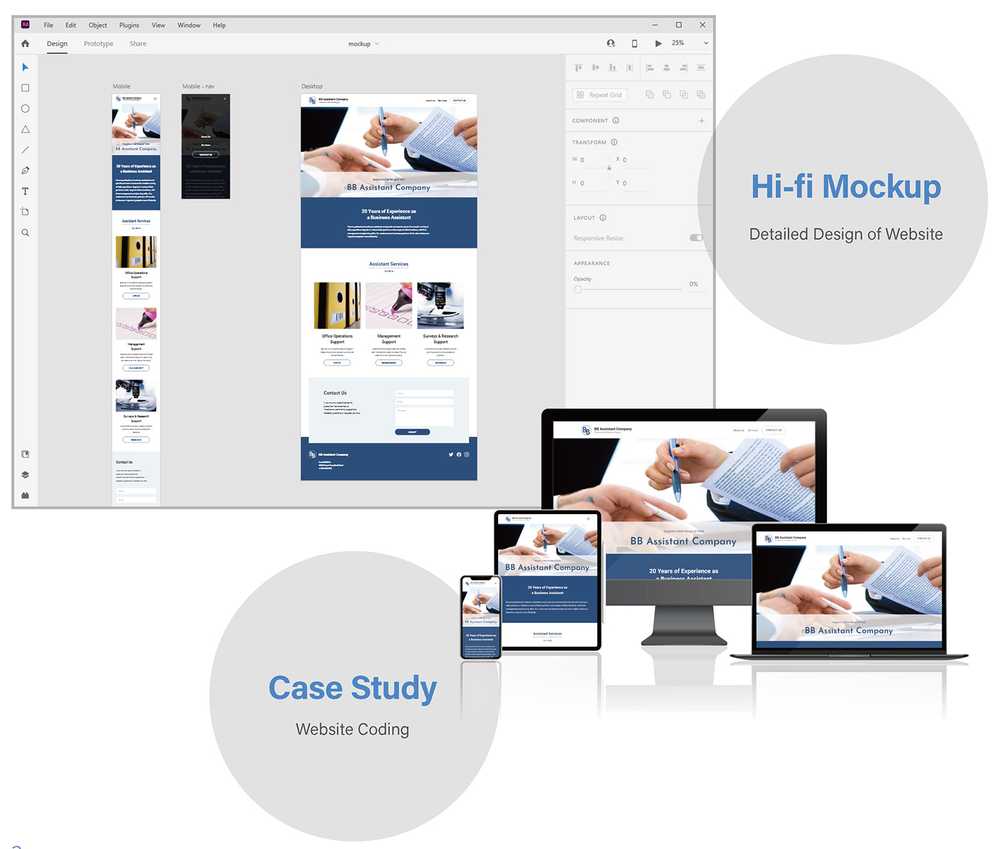 Case Study
One of the coding processes is explained step-by-step as a Case Study.
We will:
Develop a company website according to the Design Mockup and Specification.

Layout with CSS Flexbox.

Make it Mobile-First and Responsive.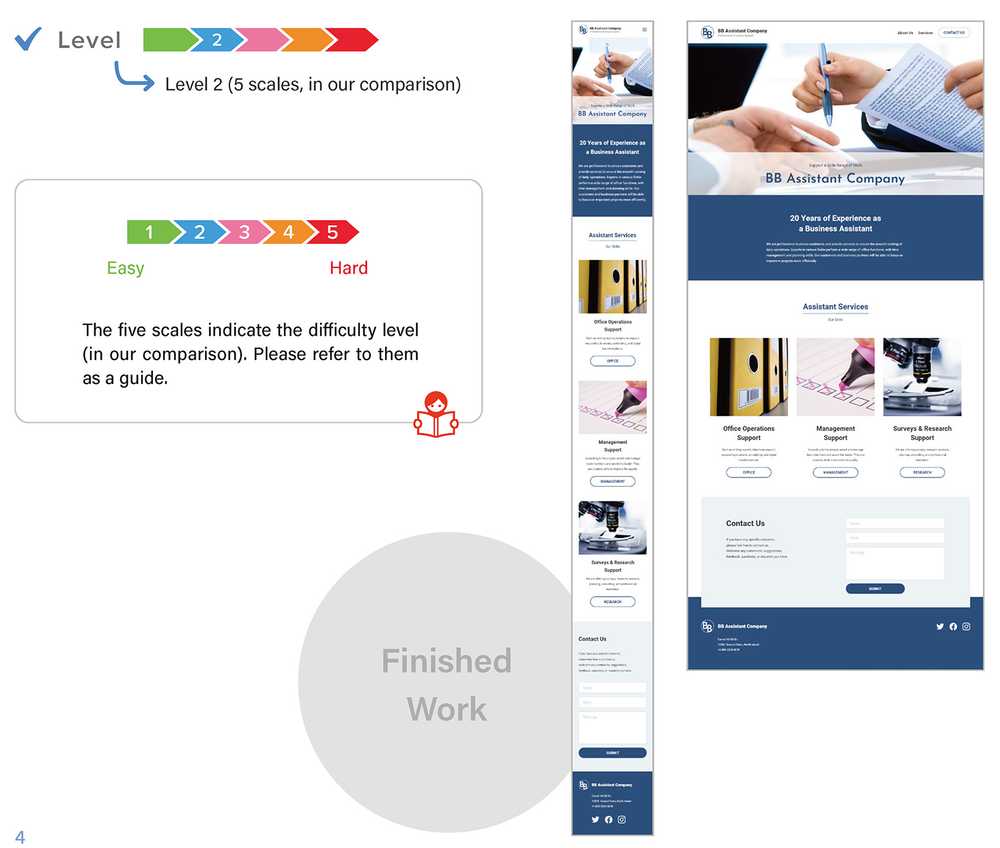 Steps to Create
STEP 1
Analyze the design mockup and split it into parts. Then plan how to mark them up with HTML and manage their CSS.
STEP 2
Create HTML and CSS files and write the basic settings.
STEP 3 and after
Create each part one by one and construct the website with them.
Finishing and Final Checks
Once the site is complete, check the responsiveness, HTML syntax, and document structure.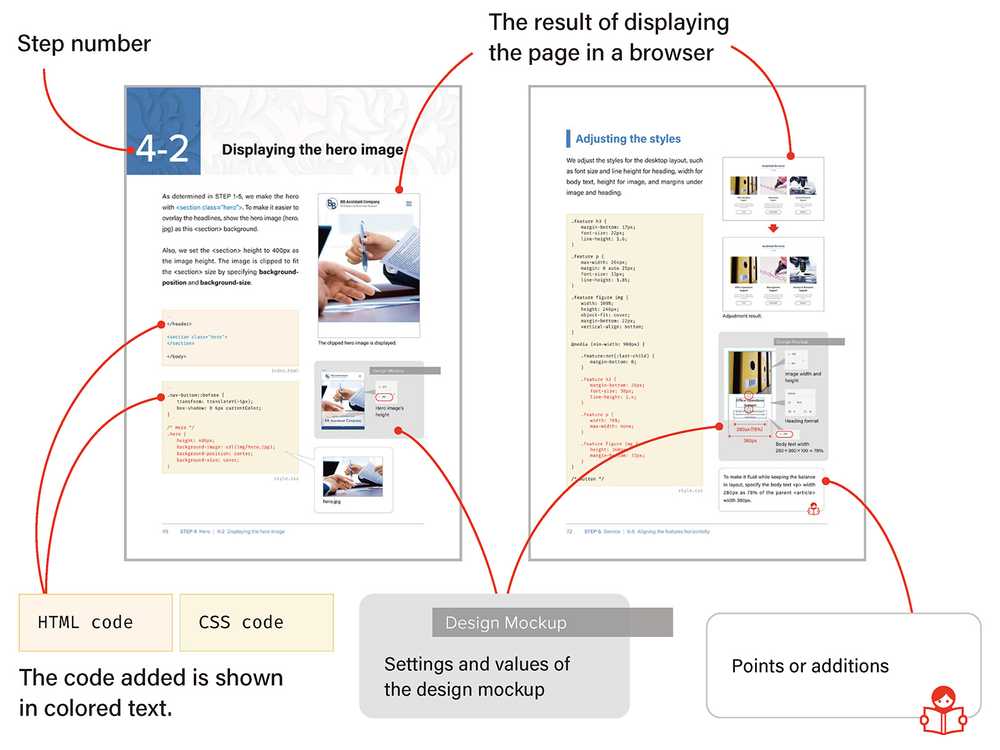 Table of Contents
Design Mockup and Specification
Case Study

Analyzing the Design Mockup

First impressions of the design mockup
Coding process and plan
Splitting the page into parts
Checking the parts flow (eye flow)
Planning how to mark up in HTML
Planning how to manage CSS

Content width with left and right space
Top and bottom space
Typography
Buttons

Start Coding

Preparing HTML, CSS, Image files

Preparing images
Creating HTML and CSS files
Writing the basic HTML
COLUMN How to use Google Fonts
Writing the basic CSS

Previewing the page

Screen size for mobile and desktop
How to display in specific screen size

Header

Creating the header
Displaying the site name
Adding the navigation menu's button

Creating lines for the hamburger button

Adjusting the header content width
Adapting to desktop

Adjusting the header content width
Setting a breakpoint
Adjusting the site name

Hero

Creating the hero
Displaying the hero image
Overlaying the headlines

Adjusting the headline style and alignment
Reversing the display order of headlines

Adapting to desktop

Message

Creating the message
Displaying the message
Adjusting width and spaces
Adapting to desktop
Adapting to a smaller screen than the mockup

Service

Creating the service
Adding the title and subtitle

Adjusting styles for the title and subtitle

Adding the service features
Displaying the feature image

Adjusting the image height

Styling the button
Aligning the features horizontally
Aligning button to the bottom

COLUMN How to align button to the bottom

Contact Us

Creating the Contact Us
Adding the heading and body text

Adjusting styles for the heading and body text

Creating the form
Styling the input fields

Specifying the field text format

Styling the submit button

Adjusting the button style for the desktop

Adjusting the layout for desktop

Planning the width for the text and form
Aligning the text and form horizontally
COLUMN The form width

Footer

Creating the footer
Displaying the site name
Adding the address
Adding the SNS menu
Adjusting the layout for desktop

Centering vertically
Overlapping the parts

Navigation Menu

Creating the navigation menu
Adding the navigation menu as a full-screen overlay

Adjusting the menu
Displaying the close button

Toggling the overlay with button
Adjusting the navigation menu for desktop

Finishing and Final Checks

Determining the final breakpoint
Applying the fade-in effect
Checking the responsiveness
Checking the syntax validity and document structure

COLUMN Heading-level outline and Structural outline