Design to Code
HTML & CSS
Coding Practice Book 5Practical Hands-on project


with CSS Grid and Multi-page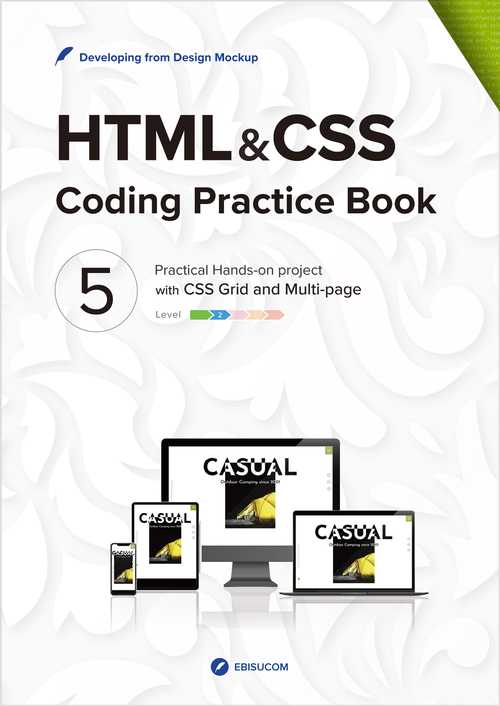 Layering CSS Grid to create a brand site
Case Study Details
Here is the PDF for details about the website to be created in the Case Study.
About This Book
This book provides a practical hands-on web project and a step-by-step visually coding guide. You will learn how to create a website from a design and specs.
We'll create a two-page outdoor brand site in this project. All assets you need to build a website is available as download.
ASSETS PROVIDED as Download
XD and Figma design files (Detailed web design mockup)

Design specs with additional notes

Image assets

Complete HTML and CSS code (Case study's code explained in this book)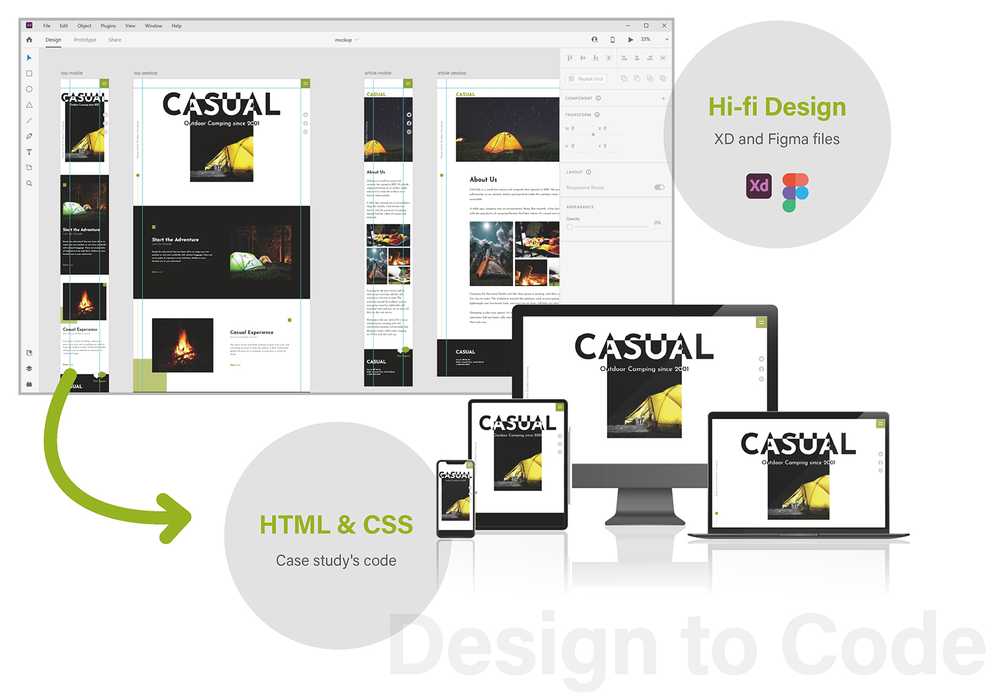 About coding case study
We explain how to code this design step-by-step as the case study.
What you'll learn:
Basic CSS Grid layout (for mosaic layout, using as layout guidelines, layered multiple grids, and more)

Coding the Design from scratch

Mobile-first and Responsive Layout

HTML with semantics and Simple CSS management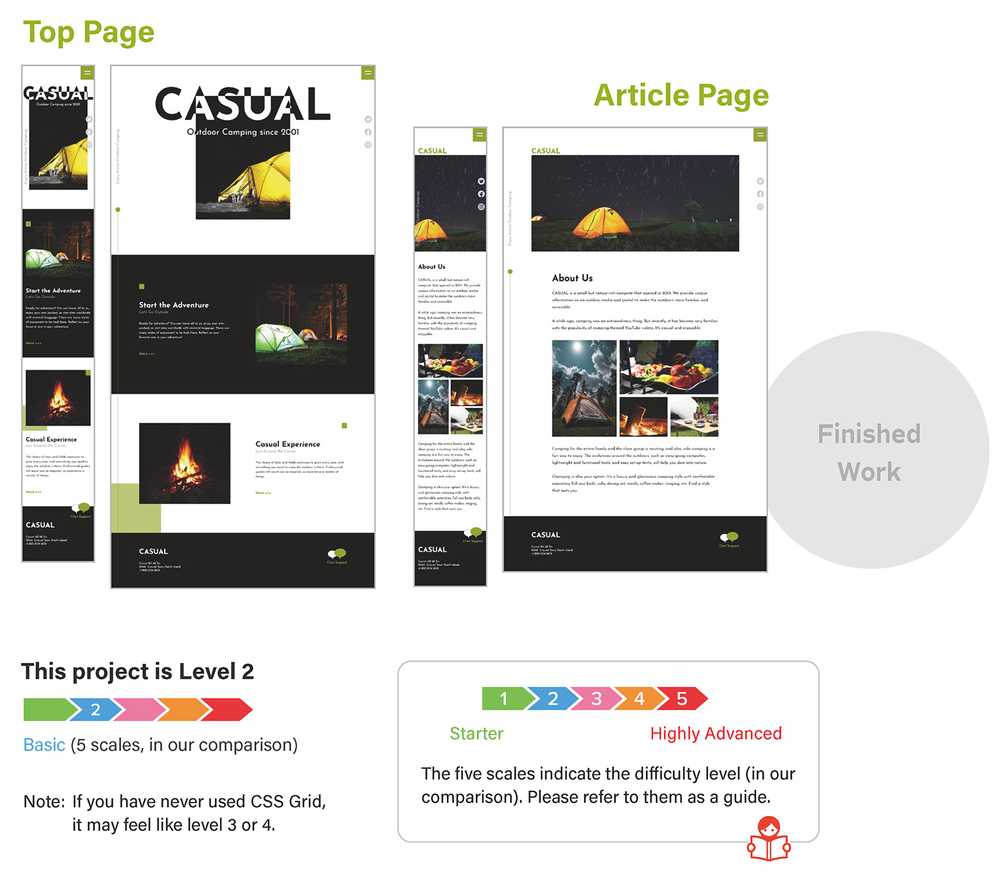 Steps to Create
STEP 1
Analyze the design and split it into parts. Then plan how to lay them out with CSS Grid.
STEP 2
Create HTML and CSS files and write the basic settings.
STEP 3 and 4
Create CSS Grid (page grid) for the page frame layout with decorative parts.
STEP 5 and after
Create CSS Grid (parts grid) for the main content layout.
Finishing and Final Checks
Once the site is complete, check the responsiveness, HTML syntax, and document structure.
Table of Contents
Design and Specs
Coding Case Study

Analyzing the Design

First impressions of the design
Splitting the design into parts

Common parts that compose the page frame
Parts that compose the main content

Planning how to place parts
Planning how to use CSS Grid

Grid for mosaic layout
Grid for using as layout guidelines

Planning how to control the layout for the main content
Determining the heading level
Coding process and plan

Start Coding

Preparing HTML, CSS, Image files

Preparing images
Creating HTML and CSS files
Writing the basic HTML
COLUMN Google Fonts setting
Writing the base CSS

Previewing the page

Screen width for mobile and desktop
How to display in specific screen size

Page Grid

Constructing the page frame with Page Grid
Creating the Page Grid
Placing parts on the grid

Adding the common parts
Checking auto-placement in the grid
Specify the placement of parts with grid lines

Styling the navigation button
Styling the SNS menu and vertical text

Styling the SNS menu
Styling the vertical text

Setting the footer background-color
Adapting to desktop

Checking the Page Grid structure on desktop
Adjusting the SNS menu position
Adjust the vertical text position

Adding the decorative line

COLUMN The parts size placed on the grid

Parts Grid

Adjusting the footer layout with Parts Grid
Adding the footer content
Creating the Parts Grid

Checking auto-placement in the grid
Placing all grid items into the second column
COLUMN The line number for the automatically-generated column and row

Adjusting the footer content layout

Planning how to achieve the layout
Placing the content in a row
Moving the chat icon to the top
Styling the text

Adjusting the Parts Grid for desktop

Checking the responsive layout
Specifying each column's min-width
COLUMN Checking the page frame responsiveness

Main Content (Header Image and Article)

Creating the main content
Placing the main content
Adding the header image

Adjusting the header image layout
Adjusting the layout for desktop

Adding the article

Adjusting the article layout
Adjusting the layout for desktop

Checking the responsive layout

Photo Gallery

Creating the photo gallery
Adding photos
Making a grid for laying photos out
Specifying the placement with grid areas

Changing the grid and area structure

Adjusting spaces above and below the gallery

Hero

Creating the hero
Creating the top page
Adding the hero

Planning how to make the hero part
Adding and marking up the hero

Adjusting the hero layout

Making text and image overlap and invert
Adjusting the text and image position
Adjusting the layout for desktop

Adjusting the responsive layout

Adjusting the responsive layout for mobile
Adjusting the responsive layout for desktop

Adjusting the stacking order

Message

Creating the message
Adding the message

Planning how to make the message part
Adding the messages

Adjusting the layout for mobile

Adjusting the image and text
Adding small rectangle
Adding large rectangle

Adjusting the layout for desktop

Aligning horizontally
Adjusting sizes
Adjusting large rectangle

Checking the responsiveness

Navigation Menu

Creating the navigation menu
Adding the menu as a full-screen overlay

Styling the menu
COLUMN Difference of justify-items, justify-content, align-items, align-content

Toggling the menu open and close with the button

Adding the JavaScript
Making the menu open and close
Making the close button

Making the menu work on the article page
Checking the menu on desktop

Making the scroll bar always visible

Finishing and Final Checks

Determining the final breakpoint

For the top page
For the article page

Checking the responsiveness
Checking the syntax validity and document structure

For the top page
For the article page